Do you love bold tile patterns? We do, and have many examples of them on display in our showroom. We especially love how you can create stunning tile rug and feature wall designs with them to define an area and add visual interest in your home.
What is a Tile Rug or Feature Wall Design?
The notion of a decorative tile pattern bordered with a solid color tile on the walls or a floor is not new. However, with so many beautiful tile pattern, style and color possibilities, it has taken on a richer design vibe.
Just as an actual rug under a table and two chairs defines a reading or conversation area, so does one made with tile. It identifies the space so it stands out as separate from the surrounding floor or wall.
Because of the materials, it makes a strong statement when done in tile.
What do You Need to Create Tile Rug and Feature Wall Designs?
What Space Do You Have in Mind?
Perhaps it goes without saying… you need to have a space in mind. However, you'll want a defined space rather than an entire home. After all, tile rugs and wall feature designs define individual spaces. They customize the area and its function within the greater space and home. For example,
A foyer or entryway
A dining area
A conversational area
A hallway runner
A bathtub area in a bathroom
A floor feature to coordinate with a wall feature, in a shower or a kitchen backsplash
Which Products Will You Design With?
Then, you need the right tile so you can create your design.
Bold Geometric Patterns
Options include products such as the two pictured below (learn more about them in Create Bold Patterns with Hydraulic Porcelain Tile).
These products will combine to create organic patterns as well as geometric ones depending on which direction you combine them in. And, then, depending on the border color you select, you can have an introspective effect or a bold contrasty one.
Geometric Shaped Tile
You may prefer to use geometric shapes such as hexagons bordered with subway tile shapes or wood plank tile looks. In this case, the subtle linen pattern on the hexagons shines.
Another way to create a rug design is by simply changing the installation pattern. Imagine a herringbone pattern design bordered with a plank shape.
For feature walls, you can create similar patterns and also combine mosaics, glass subway tile, and other products that might not withstand foot traffic. Some of the products we highlighted in How to Bring Mid-Century Modern to Your Portland Home would be ideal!
Feast Your Eyes and Imagination on Examples!
As you can imagine, we are visual people. The best way to bring to life the possibilities that tile rugs and feature walls offer you is by highlighting some examples.
The image below shows you how a bold tile rug pattern looks in a wall-to-wall installation. Can't you imagine adding a solid area rug and decorative pillows that pull the blue floor tile color onto the furniture?
In this next example, the tile rug more traditionally defines the dining area. The border tile, though, is a large format tile. Notice the highly decorative feature wall pattern. The combination warms up the space and creates intimacy.
You might even take a monochromatic tile – in a dark grey, for example – and border it with bold tile patterns. A reverse tile rug look.
In the example below, you see a shower floor done in an octagon tile, echoing the marble wall tile veining pattern colors. You might echo the look outside of the shower and/or in front of the sink.
>> See Marble and Grey Octagon Tile Complete Bathroom's Historic Feel
Contemporary Tile Rugs
These next examples come from the Coverings17 Installation Design Showcase where designers collaborate with installers to completely tile individual tiny homes. These rug designs are less traditional, yet equally inspiring.
Below you see a hexagon tile design that morphs into a wood plank installation as you move from the kitchen space into the living space. Notice the feature wall installation which carries to the other end of the tiny house.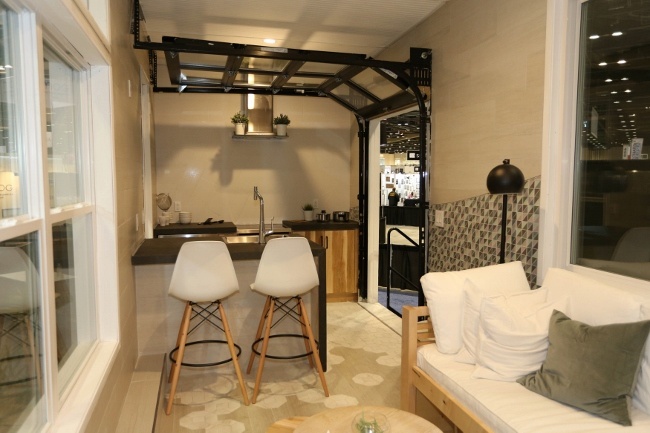 >> See Tiled Vitruvian Tiny House by BlueTreeHome's Nikki Vega Mimics Nature for more images.
In this next example, the designer deliberately used a different color of tile in front of the sink (as well as in front of the bed and the doorway) to create a clean modern tile rug that you see reflected in the feature wall design.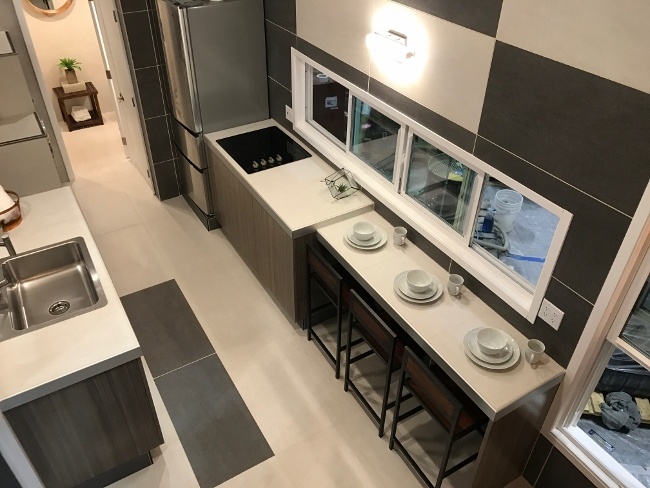 >> See Tile Inspires West Michigan Tiny House by The Georgia Pear Interiors for more images.
Tile Rug and Feature Wall Design Inspiration
You'll find plenty of historic and contemporary tile rug inspiration in this Pinterest board specifically about tile rug patterns. The possibilities are endless!
Here are a few more resources for you:
>> See use patterned floor tile to create a tile rug
>> See 6 Design Ideas for Tile Rugs
>> See How to Create a Cement Tile Rug Design
Ready to Create a Tile Rug or Feature Wall in Your Home?
Are you ready to create stunning tile designs in your home? We invite you to visit our Portland, Oregon showroom to explore the many flooring and tile options we carry. In addition to bold hydraulic styles in porcelain, you'll find an inspiring range of tile shapes, styles, and colors for creating a successful design layout. We think you'll find the perfect product for your Portland, OR home.
Or schedule an in-home job site assessment. Your Classique project consultant will guide you through everything from initial estimate to product selection to final installation, answering all your questions.
You'll be delighted. We promise.
Thanks for reading,
Judith